Our pick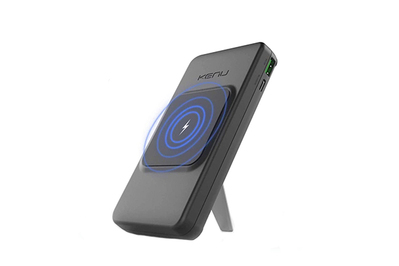 This Qi power bank's reusable adhesive surface holds your phone in place while it's wirelessly charging, and the kickstand can prop your phone up for desktop use or movie watching. It can charge most phones up to three times.
Buying Options
*At the time of publishing, the price was $45.
The Kenu BingeBank offers the best grip of any non-MagSafe wireless power bank we've tested in the form of a reusable adhesive pad, ensuring that your phone stays in place and keeps charging. The power bank's sturdy metal kickstand works in landscape or portrait orientation, making it useful as a desktop dock or as a source of backup power while you're watching movies on your handset. The BingeBank has roughly the same footprint as an iPhone 12 or 13 or Samsung Galaxy S21, but measures about twice as thick, and it's equipped with a USB-C port for input and output (you can fast-charge supported devices through the USB-C port if you have the right cable), as well as a Quick Charge 3.0 USB-A port for rapid-charging certain Android devices. The BingeBank can fully charge most phones three times before needing to be recharged itself; that's as much battery capacity as we've seen from any Qi power bank since we began researching competitors for this guide in 2018.
Also great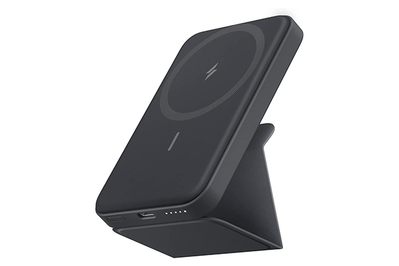 Anker's magnetic power bank snaps onto the back of MagSafe-equipped phones and provides nearly a full charge at a fast-enough speed, while also working as a stand when you need one.
Buying Options
*At the time of publishing, the price was $60.
If you have an iPhone that supports MagSafe, we recommend Anker's 622 Magnetic Battery (MagGo). This power bank stores enough energy that it was able to fill a totally depleted iPhone 13 battery to 83% in our tests—a similar figure to the other 5,000 mAh power banks we tested—and it securely latches onto the back of a phone using embedded magnets so you can pick up and continue to use your phone while it's charging. It also includes a fold-out stand that can be used to prop up your phone, which is a clever and practical addition. The Magnetic Battery is as slim as other MagSafe-compatible power banks, and it fits on every iPhone that supports MagSafe without blocking the phone's cameras like some models do.
Runner-up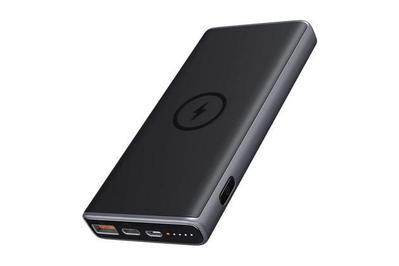 If you want a basic Qi wireless power bank that offers speedy charging at a good price, this Aukey model delivers. But don't expect extras such as a kickstand or an adhesive surface.
Buying Options
*At the time of publishing, the price was $35.
Aukey's 10000mAh Wireless Charging Power Bank (PB-Y32) satisfies all our core criteria for wireless power banks with its compact design, grippy surface, high battery capacity, fast wireless charging, speedy ports, and low price. But it's simply not as nice to use as the Kenu BingeBank: It doesn't have any sort of dock or stand, so you can use it only with your phone lying flat on its surface, and its rubberized grip isn't strong enough for it to stay connected to your device in a bag. Consider the Aukey if you'll mostly be using your charger in one place and you don't mind your phone being horizontal while it's charging.
Budget pick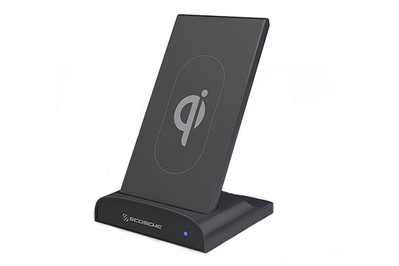 This model consists of a smaller, lower-capacity Qi wireless battery pack paired with a dock that charges the power bank and holds your phone at a convenient angle.
Buying Options
*At the time of publishing, the price was $30.
The Scosche QiDock Powerbank is a great option if you don't require as much portable power because your phone's battery doesn't often run low, and if you prefer a stand-style charger for your desk or bedside table. The power bank nestles into an included dock that both recharges it and allows you to prop up your phone, and you can easily remove the battery to take it with you. Most Qi power banks of this capacity (under 10,000 mAh) are expensive for their size or not certified to adhere to wireless charging standards, or both, whereas the QiDock is a strong value and is certified. This power bank's 5,000 mAh (18.5 Wh) battery should be able to charge most phones about one and a half to two times. The QiDock also has a USB-A port for charging a phone or tablet with a cable, but the USB-C port works only to charge the power bank itself.